Welcome to South Africa, home of the Big Five game animals. There's one right now, on the left! Yes, folks, that's the majestic Cape buffalo. And, on the right, it's… Princess Zelda!?
South Africa has much to offer as a tourist destination besides wildlife safaris. One is Comic Con Africa, Africa's biggest pop-culture and gaming festival. Held in South Africa, the convention attracts fans, cosplayers, creators, and retailers across Africa and the world to celebrate comics, games, and (our favorite) anime. This year's convention ran for four days, from September 22nd to 25th.
Comic Con Africa is a snapshot of what's cool, so enjoy these highlights of what went down this year.
#ComicConAfrica Day 3 🥳 pic.twitter.com/ELi7c0TjnX

— Comic Con Africa (@ComicConAfrica) September 24, 2023
Finger Licking, Fighting Food
Forget the regular convention scene health hazards of cardiac arrest-inducing fried food and that fleshy-pink "mystery sauce." Comic Con Africa is well supported by popular fast-food and snack brands. Keeping con-goers well-fed and fired up is what they do best.
KFC does good business in South Africa, so it's unsurprising to find them getting behind the con. Their attention-grabbing exclusive menu had something for everyone. Which of these would you pick, and which would you ban from existence? Pass those Kentucky Fried Oreos!
Doritos was also in on the action. They hosted the Doritos Crunch Cup, where would-be champions could take on local game pros in Call of Duty, FIFA, or Street Fighter. Cash prizes were up for grabs, which sounds like lots of fun if you can get past Doritos dust on your game pad.
Traveling to Otaku Town? Expect Maids!
Otaku Town is Comic Con Africa's anime mecca. Visitors watched anime, learned Japanese (daiyo!), made Japanese cuisine, and watched live drawing sessions. There were even rumors of a maid café.
It's days after the con, and I'm still getting geek-out-goosebumps because of the otaku celebs! YouTube content creators Akidearest and The Anime Man, One Piece actor Steven John Ward, and Veronic Taylor were all in attendance! It means a lot when actors who influenced you as a kid come halfway around the world to visit. You might know Veronica Taylor as the voice actor of Ash Ketchum, but, for me, she'll always be the voice of Teenage Mutant Ninja Turtles' own April O'Neill. Her visit hyped me up, and I've not come down yet!
The legendary @ADaniels3PO at #ComicConAfrica C-3P0 🤖 pic.twitter.com/BMSBdf6yYV

— Comic Con Africa (@ComicConAfrica) September 24, 2023
What a day! 🥰#ComicConAfrica @akidearest and @TheAn1meMan you guys rock! pic.twitter.com/DoHnLAkgCc

— Comic Con Africa (@ComicConAfrica) September 23, 2023
According to Times Live, Taylor said of playing Ash in the Pokémon series:
"It changed who I am just from playing him. He goes out of his way to save Pokémon and make sure that they are well taken care of and that they are not just left somewhere. I think that's a recurring theme that I try to live up to as well."
Taylor currently produces her podcast, The Trainer's Guide, with her daughter, Rena Taylor. The Pokémon rewatch show is a trip down memory lane, and their latest episode had a live recording in Johannesburg.
Danger! Rem Cosplay Ahead!
South African cosplayer JinxieCosplay won first place in the Comic Con Africa cosplay contest. Her Princess Zelda cosplay outstripped the competition, winning her roughly $524 (US) in prize money.
CONgratulations to the #ComicConAfrica champion of Cosplay @itsJinxie
🙌🎉😊

A massive thank you to all the participants and to our friends @brothersouthafrica and @ges_cosplay_offical for making it happen.

Lots of love! 💖 pic.twitter.com/RuAUIOeGt3

— Comic Con Africa (@ComicConAfrica) September 25, 2023
Check out JinxieCosplay's X/Twitter feed for more fine cosplay creations. She does a mean Rem.
Best girl boudoir <3 Rem from RE:Zero! <3 pic.twitter.com/33aDS16ltM

— JinxieCosplay (@itsJinxie) September 1, 2018
You don't need an anime convention like Comic Con Africa to buy the hottest new anime merch because the J-List Store is regularly restocked with naughty and nice goods from Japan. At the moment, I'm most excited about this Rogue REBIRTH 1/7 MARVEL BISHOUJO Figure. Snickety snickety! She's up for preorder.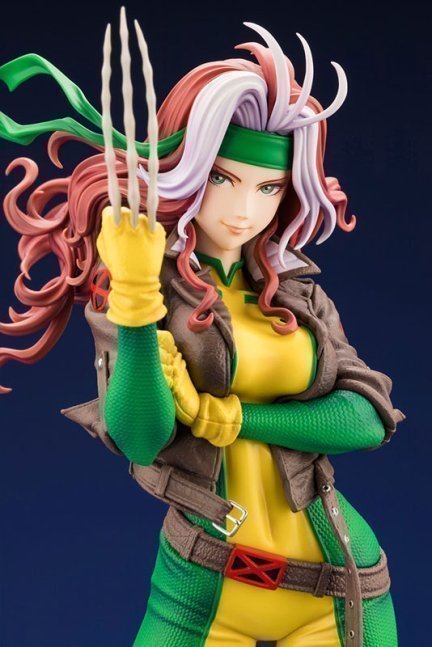 What's your favorite convention? What cons are on your bucket list? Tell us in the comments or on Twitter or Facebook. Also, you can hang out with me and other customers of culture on Discord.